Animated client testimonial social media template
by Ivy Hwang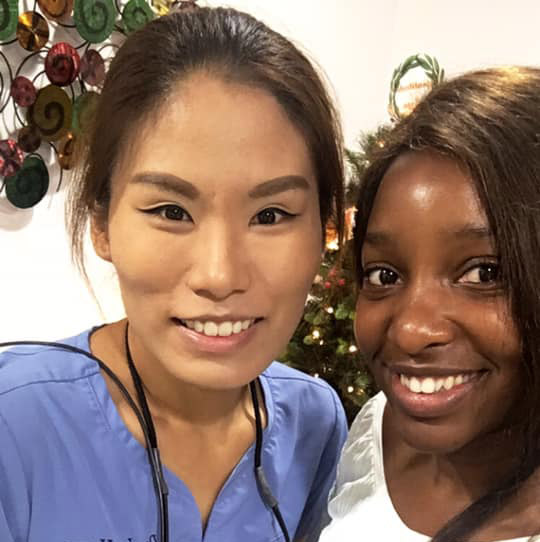 I'm so happy to call Dr Hwang my Dentist.
Never have I come across a health professional who is so knowledgeable and yet so passionate about her area of expertise!
Whenever I visit her office, I always want to stay longer. The care and compassion that she gives me and her other patients clearly goes far, above and beyond that of many practitioners out there. She is genuine. She is so kind. Her amazing energy is infectious.
I will recommend Dr Hwang, anytime and any day, as your go to dentist if you don't already have one.
Dr. Hwang has helped myself, my husband, and my two teens be more responsible about our dental hygiene. She is extremely knowledgeable and personable so makes going to the dentist a positive experience. She is very patient and encouraging which helped when I had a tough extraction. Leslie makes a scheduling and billing a breeze. My teeth feel super clean and not sore after time with the hygienists, Rosemary and Leilani. We are in good hands and spirits with this team!
How lucky I am to have met Dr. Hwang! I have always hated going to the dentist and consequently have many dental issues. I still don't LOVE going but Dr. Hwang has made it the best it can be for me! She is kind, patient, carefully explains everything that she is going to do and what the results will be. In addition, she is an artist and a perfectionist which shows in her work. I never have to fear that I will leave her office and not be able to smile and talk! After seeing the same dentist/friend for almost forty years, it was a traumatic change at the beginning but now I cannot imagine ever going anywhere else!
I can't think of a single thing to improve her office. Dr Hwang is extremely knowledgeable, has a very soft touch and takes her time answering my questions so that I never feel rushed. She's always on time. I have never had to wait more than 5 minutes. Her staff is courteous and sociable. If I have to change appointments Dr. Hwang is very accommodating. When she took over an existing practice I wasn't sure whether or not I should stay. I'm so glad I did.
Dr. Hwang is amazing! Been going to her for almost 3 years now and she is very knowledgeable. The entire staff is very friendly and professional. Highly recommend if you're looking for a dentist in the area!
Great experience from the time I walked in. The support staff member was very friendly and courteous. The dentist was very professional, helpful and knowledgeable. I will definitely recommend the service here to anyone. My family and I are very happy with the service we get from them. We'll continue to come back!
I always enjoy visiting Dr.Hwang's office. Both she and her staff are kind and gentle and always make me feel comfortable. Dr. Hwang is extremely knowledgeable and I feel confident that my dental health is in the best hands possible. I would highly recommend her to anyone looking for a new dentist!
Dr. Ivy and her staff are caring, compassionate and professional. Leslie greets you at the front desk and manages insurance issues. Lisa assists with all dental procedures and alleviates any discomfort. Dr Ivy has great skill and impeccable credentials. If you want a long term relationship with a dentist where the atmosphere is pleasant and the work is top notch then Living Smiles Dentistry is for you.
For someone who never really enjoyed the dentist, I couldn't be happier about coming here! The office is clean and modern, the staff is welcoming and very friendly, plus the actual dental work is top-notch. Had no issues and looking forward to my next appointment.
Went for the first time and they are great! Dr. Ivy Hwang is very friendly and sympathetic. I'm not the best patient for a dentist, but Dr. Hwang and her assistants are great! Thanks!
I've been very happy with Dr. Hwang. She is professional, caring and an exceptional dentist. She has now become my children's dentist! And all of them have spoken highly of her. My youngest daughter went to Dr. Hwang today for the first time. Her mouth was sensitive after having ortho treatment yesterday and Dr. Hwang was particularly gentle with the cleaning. I highly recommend her.